9 Countries that Celebrate Valentine's Day Differently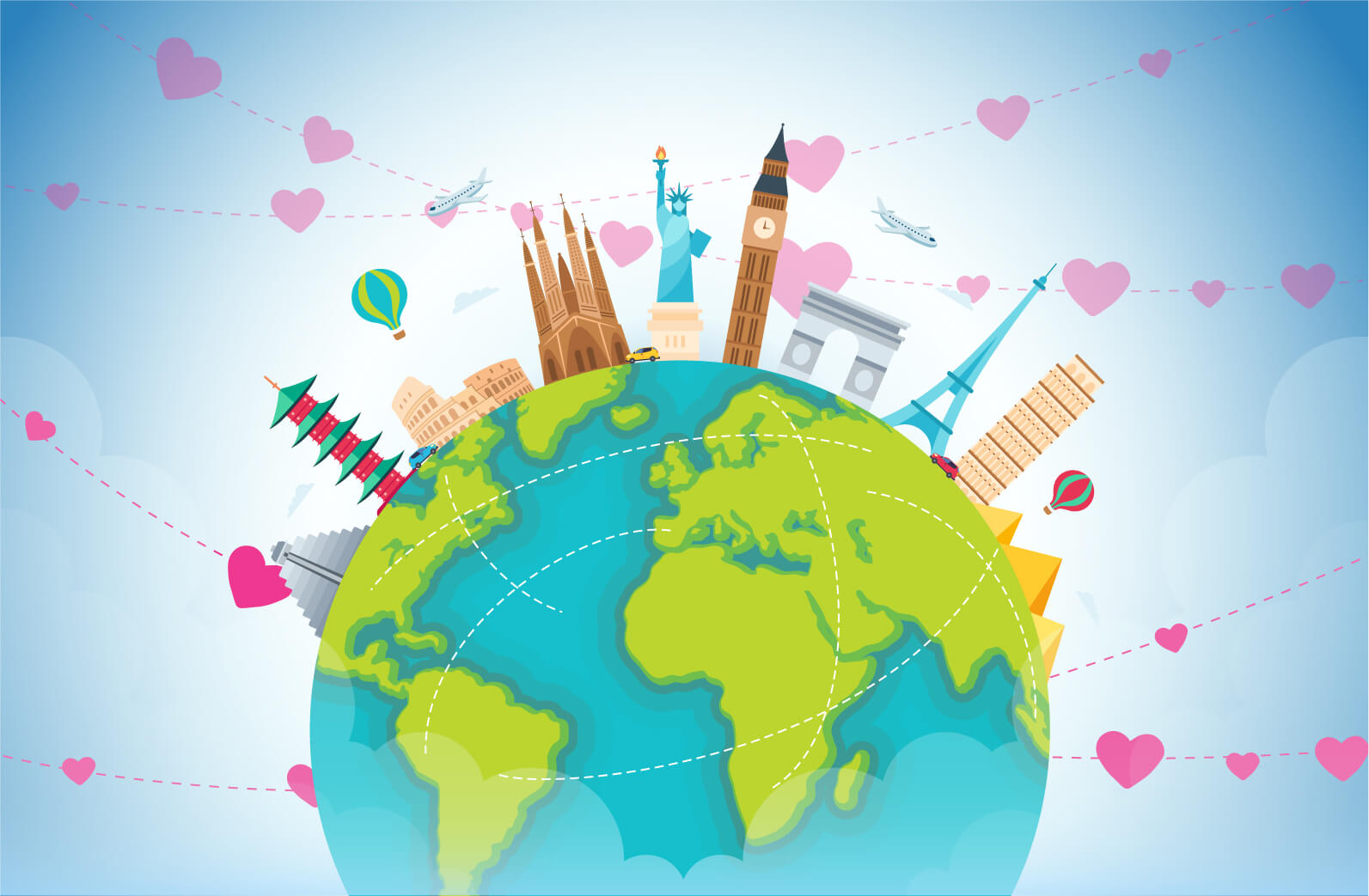 Valentines Day is a celebration of love. At DNA Romance, we are bringing you various Love-day festivals from around the world. From East to West, different cultures and traditions have different ways to celebrate romantic love. Here are 9 countries that celebrate Valentines day a bit differently. .
Japan
Valentines day in Japan is not only a day for couples. On February 14th, girls give out chocolates to their friends, significant others, and coworkers. Giri-choco ("obligation chocolate") is cheaper and is given to friends, whereas honmei-choco ("true feeling chocolate") is usually homemade and is meant for one's significant other or crush.
On top of Valentine's day on February 14th, white day is celebrated a month later on March 14th. White day is a chance for men who received chocolate on valentine's day to return the favour with white coloured treats, such as marshmallows or white chocolate. White day began in Japan in 1978, but other Asian countries now also celebrate white day, including China, Taiwan, Vietnam and South Korea.
England
On Valentine's eve (February 13th), women in England used to place 5 bay leaves on their pillows (one in each corner and one in the centre) to welcome dreams of their future husbands .
In Norfolk, Jack Valentine (aka. Old Father Valentine) would leave treats and small gifts on the porches of families with children in England on Valentines Day
Italy
An old Italian Valentine's day tradition is for young, unmarried girls to wake up before dawn to spot their future husbands. The belief was that the first man a lady saw on Valentine's day was the man she would marry within a year, or he would strongly resemble the man she would marry .
Today, Italians celebrate Valentine's with gift exchanges and romantic dinners, and a plethora of chocolate-covered hazelnuts.
China
Although Western Holidays such as Valentine's day and white day are becoming more popular in China, the oldest Chinese romantic holiday is called QiXi ("seventh night festival"). QiXi is celebrated on the 7th day of the 7th lunar month each year (August 22, 2023 on Gregorian calendar this year) .
The basis of the holiday is from an old Chinese Folklore of lovers: NiuLang (M) & ZhiNu (F), who were forcefully separated onto two sides of the milky way by ZhiNu's mother. Every year the couple (represented by the stars Vega and Altair) is only able to reunite on the night of QiXi with the help of magpies who form a bridge across the milky way.
Chinese couples and young, single women observe the holiday by heading to the temples to pray for happiness and prosperity in their relationships. At night, people will watch the heavens to watch the stars Vega and Altair (ZhiNu and NiuLang, respectively) come close during the star-crossed lovers' annual reunion. Singles' Day or Bachelors' Day is celebrated in China on the 11th of November (11/11) and is also known as Double 11. Singles' Day is a unofficial holiday that celebrates people who are not in relationships. The date was chosen because the numeral 1 resembles a bare stick, which is Chinese slang for an unmarried person who does not add new branches to their family tree.
Philippines
Valentines day in the Philippines is a day for mass wedding ceremonies in Philippines. Hundreds of couples will gather at malls or other public areas around the country to get married or renew their vows in the presence of a large crowd .
Brazil
Brazilians skip the February 14th celebration and instead celebrate Dia dos Namorados, or "Lovers' Day" on June 12th. There will be an exchange of chocolates, flowers, cards, but in addition to that, music festivals and performances are held across the country. Gift giving is not limited to couples either, gifts and dinner is shared amongst friends and relatives !
The day after, on June 13th is Saint Anthony's Day, honouring the patron saint of marriage. On this day single women perform the simpatias ritual in hopes that St. Anthony will bring them a husband.
Korea
Korea observes a romantic holiday on the 14th of every month! A list is provided here:
Jan 14 - Diary Day
Feb 14 - Valentine's Day
Mar 14 - White Day
April 14 - Black Day
May 14 - Rose Day
June 14 - Kiss Day
July 14 - Silver Day
Aug 14 - Green Day
Sep 14 - Photo Day
Oct 14 - Wine Day
Nov 11 - Pepero Day
Nov 14 - Movie Day
Dec 14 - Hug Day
Not all Korean couples will celebrate all of these holidays, but there are some very dedicated couples who regard these traditions highly.
The next time you're in one of these countries, you and your significant other can observe these holidays for yourselves 😊
If you're currently not in a relationship, not to worry! Use DNA Romance's proven algorithm to find your Valentine today.
India
Valentines day in India is celebrated along with the rest of the world, but the Hindi festival of love, Kurva Chauth, is celebrated around late October every year. This festival falls on the 4th day after the full moon in the Hindu Lunisolar Calender month of Kartik.
Mostly celebrated in the northern parts of India, this festival is observed by married (and sometimes non-married) women by doing a nirjal upwaas (fasting without water) for the whole day. On this occasion, fasting women choose to wear Karwa Chauth, special dresses like a traditional saari or lehenga to look their best. In some regions, women wear traditional dresses of their states. The fast begins at dawn, and fasting women do not eat or drink during the entire day. Hindu wives perform various kinds of rituals along with fasting on Karwa Chauth for their husband's long life. This fast ends in the night after praying to the moon and then the husband offers the wife to drink water from the Kurva (a small earthen pot).
The festival of Kurva Chauth signifies the love between the couples and, thanks to Bollywood, has become mainstream in recent history.
Colombia
Colombians celebrate El Dia del Amor y la Amistad Day of love and Friendship every year on the third Saturday of September. The origin of this festival in the country dates back to 1969 when it was decided to stop celebrating Valentine's Day on February 14, and move the commemoration to September.
The reason the date of the celebration was changed is that, in February, Colombians spend money on other things like scholarships. Therefore, usually, people preferred not to buy presents during that season. However, September was a month without any celebrations, so in order to leverage the commerce in the country, the Government of Colombia decided to change the date to September.
In the beginning, the celebration was just for couples, but throughout the years Colombians started to celebrate with friends and families. Now, in September it is usual to see not just couples celebrating, but also a group of friends commemorating their friendship.
See Your DNA Matches Right Now
GET A COUPLES COMPATIBILITY REPORT
Take A Free Personality Test