How DNA Romance Works
DNA Romance predicts "Chemistry" online using the DRom 1.0 algorithm which evaluates 100 Single Nucleotide Polymorphism (SNP) markers positioned in candidate genes that have been shown to play a role in human attraction and reproduction. Research has demonstrated that people with differing DNA markers in the Major Histocompatibility Complex (MHC) will find each other's scent pleasant and are more likely to share a lasting romantic relationship .
DRom 1.0 Predicts Chemistry & Mismatches Relatives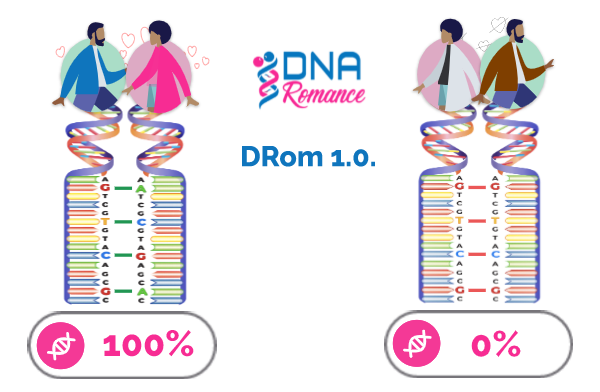 How Chemistry (MHC Based Attraction) Influences Relationship Choice
DNA Romance predicts 'Chemistry' using DRom 1.0, an algorithm that analyses Single Nucleotide Polymorphisms (SNPs) that have been shown to influence relationship choice in several independent research studies.
Similarities Between DNA Codes Can Influence Family Planning
Couples sharing a lot of similar DNA code in MHC genes are known to have issues with family planning. Here are some of the peer-reviewed papers describing the role of MHC similarity and human reproduction.
In addition to the DRom 1.0 algorithm, DNA Romance forecasts personality compatibility using personality types derived from psychometric tests. DNA Romance also allows users to evaluate shared common interests using filters, and physical attraction based on their match's photographs. DNA Romance's second genetic algorithm DRom 2.0 uses an AI model trained with relevant DNA markers to predict phenotypic traits with high accuracy. DRom 2.0 complements DNA Romance's profile verification mechanism, which presents multiple layers of checks that help to better indicate user profile authenticity.
Personality Compatibility Rating
How Different Personality Types Interact in Relationships
Our personality compatibility rating is based on the Jung/Myers-Briggs 16 personality types. This psychometric test has a long history of development dating back 100 years to Swiss psychiatrist Dr. Carl Jung and his book "Psychologische Typen" which translates to Psychological Types in English. This personality test was later updated by Isabel Briggs Myers and her mother Katherine Briggs. The formal version of the 16 personality types test is known as the Myers-Briggs Type Indicator® and is used primarily to help in organizational psychology.
DNA Romance's personality compatibility algorithm, can be used to predict personality compatibility between single people and couples. It works by assigning maximum compatibility scores for similar personality types and less compatibility with personality types that clash.