The DNA Romance Profile Verification Score
DNA Romance Profile Verification: A Multi-step process
Fake profiles are a common concern for online dating sites. Accounts with bogus information or intentional scammers cause disappointment, waste time, and expose good people to criminals. According to the FBI, romance scams cost victims more than $82 million in the last six months of 2014 alone, with the average victim losing more than $100,000. Yes, that's five zeros. Ouch. Therefore, many people have lost patience and trust in online dating. DNA Romance's profile verification mechanism presents multiple layers of checks that help to indicate user profile authenticity.
Breakdown of the 100% verified profile on DNA Romance
First, DNA Romance would like to see users willing to spend time and effort to build a comprehensive profile for themselves and treat online dating seriously. Therefore we allocate 10% to the "verification score" for users who complete their profile, and another 10% to users to upload their photograph. Confirming your email will add another 15% to a user verification score, bringing the total to just 35% for users who complete the steps above. DNA Romance wants users to have full access to our matchmaking functions, essential if you want to use DRom 1.0. Therefore, a very large 35% is added to the verification score of users to submit a valid DNA file. This additional layer of security helps to confirm that users are authentic and serious about online dating. Last but not least, DNA Romance will add 30% to the verification score if a person uses a valid credit card for the purchase of a subscription, DNA test, or $1 for those who just want to verify their real. Completing all these steps will lead to a 100% Profile Verification (figure 1).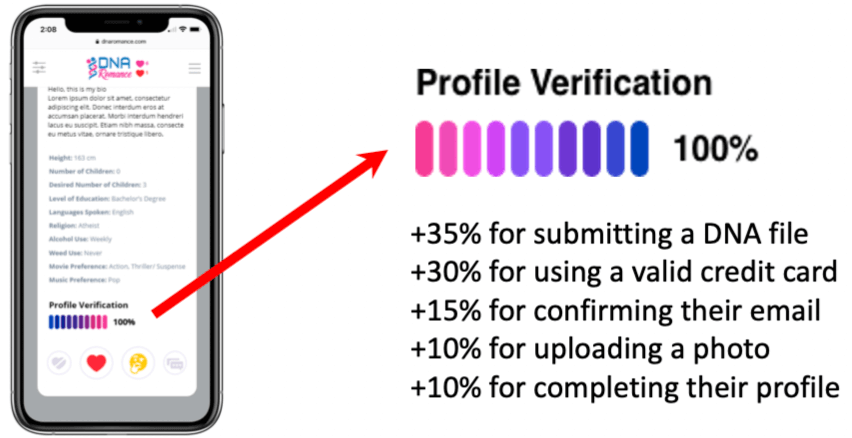 Figure 1. DNA Romance provides an authentic and high-quality candidates pool for online dating with a comprehensive profile verification mechanism
User safety is our priority
At DNA Romance, you can filter out the profiles that are not fully verified. You also have the option to ask a user to be 100% verified before you start a conversation with them. We encourage our users to have a complete profile for a better experience.